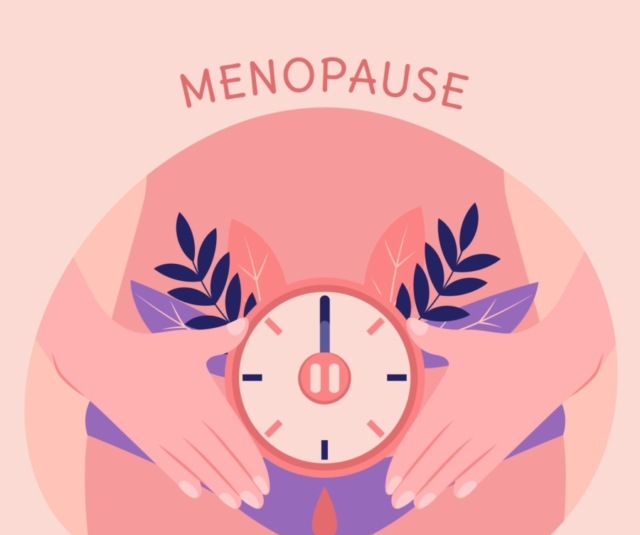 What is Menopause?
Menopause occurs when a woman's oestrogen levels begin to drop. It usually starts from around the age of 45 to 55 with the average age for a woman to reach menopause in the UK being 51. 
Menopause affects different individuals in different ways and symptoms can include difficulty sleeping and / or fatigue, hot flushes, joint pain, loss of libido, excess hair, low mood and brain fog.
How does this relate to Aesthetics?
From an aesthetic point of view menopause symptoms can lead to changes in physical appearance. Did you know that from around the age of 20 you lose around 1% of collagen per year? Once you hit menopause a further 30% is lost. Oestrogen is essential for normal skin function and is associated with collagen production, skin thickness and hyaluronic acid production. 
The decline in oestrogen levels affects the normal functioning of the skin, oestrogen is essential for the production of collagen, therefore as the oestrogen levels drop, the collagen production slows and skin becomes thinner, dull, less elastic and lines and wrinkles become more prominent. These in turn can have a profound effect on mental health and wellbeing. 
It is important to get any new or ongoing symptoms checked through the relevant health care professional to rule out other medical conditions.  
So, how can R&R Aesthetics help you to prevent ageing and look and feel better when going through the menopause?
If you wish, as a CQC registered clinic, R and R Aesthetics can offer specific blood testing such as Well Woman female hormone tests to help you understand what is happening in your body. From there, you may choose to explore your diet and lifestyle and perhaps supplements to enhance this. We have several targeted supplements in clinic and are always happy to advise on the most appropriate. 
We can also take a closer look at your skin in clinic using our Observ skin analysing system. This amazing device helps us to see what is really going on with your skin using 6 comprehensive observation modes, and helps us tailor your skin care to your specific needs. Skin often needs a little more TLC as we age, with this you may find that products you have loved for years don't seem as effective anymore. At R&R Aesthetics we are AlumierMD experts and can give you a comprehensive and personalised regime using these medical grade products. Skin saviours for the Menopause include regular use of retinol, Vitamin C and daily SPF.
To supplement your daily skincare, we recommend in clinic treatments around once a month. Using professional products and the latest technology we at R and R can help you to look and feel better. We offer a range of treatments including ENDYMED which uses Microneedling and Radiofrequency helping to boost your skin's natural collagen production resulting in and improvement in underlying structures and causing a tightening effect. Another way to aid collagen production is the popular Profhilo Skin Booster. Profhilo is an injectable skin modelling treatment containing high levels of hyaluronic acid which helps restore volume and elasticity to skin 
For skin further lacking in volume we can offer dermal filler treatments as a restorative option. Filler consists of hyaluronic acid which is injected in specific areas to plump and add volume as required. Our nurses Caroline and Emma are trained to an advanced standard whilst providing natural results. 
We are fortunate enough to house several technologies here at R & R which can help with other symptoms caused by menopause. The latest Lumenis Stellar M22 laser is used to resurface skin, ResurFX boosts collagen and rejuvenates skin that is showing the signs of ageing. It also uses targeted techniques to minimise skin conditions such as age spots and broken veins, acne and rosacea. 
Our skin level 4 skin therapist Becca offers a Signature R&R facial which incorporates medical grade products within a relaxing holistic experience to take away the stresses of the day. 
Other treatments which can help address any Menopause symptoms you may experience, are Hydrafacial, Cristal Pro Cryolipolysis (Fat Freezing) and Mesoestetic Body Shock, all of which are offered at R&R Aesthetics.
Back to blog